The easy-to-spot Eat Right with Rouses logo makes it easy to choose healthy.
Imagine having your own personal dietitian with you when you shop. Our Rouses registered dietitian has handpicked more than 500 grocery items that have lower sodium, saturated fat, healthier fats, more fiber and less sugar. Just look for the Eat Right logo on the shelf tag or package. We also offer an extensive selection of organic, natural, gluten-free, sugar-free, paleo and special diet groceries.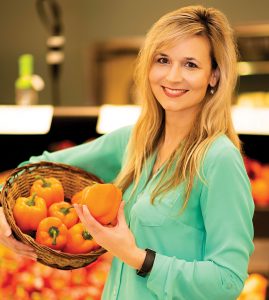 ADVICE FROM APRIL
Hi, I'm April, your Rouses Dietitian.  My food philosophy is that there are no good or "bad" foods. Healthy eating and weight management can usually be achieved by eating a wide variety of foods — some in more abundance, others in smaller amounts, or less often. But I also understand the attraction of popular diets like Keto and Paleo. If you need advice, I'm here to make choosing healthier options easier. 
Email Rouses Registered Dietitian.
GROCERY STORE TOURS
Complimentary tours designed to teach you how to effectively shop your local Rouses are available by appointment. They're perfect for small groups or groups of up to 12 people. Popular topics include diabetes, heart health, weight management, low sodium, vegan and vegetarian, and food allergies. To schedule a tour, email Rouses Registered Dietitian.
EAT RIGHT HEALTH FAIRS
Our health fairs are fun and educational and a great way to learn how healthy can taste good, too. Our fairs include healthy cooking demonstrations and free food and product samples. Most fairs also feature free health screenings from a local health facility. No registration required.