We're always first to market with interesting new items and new organic, specialty and local products.
---
CAULIPOWER, find it in Frozen Foods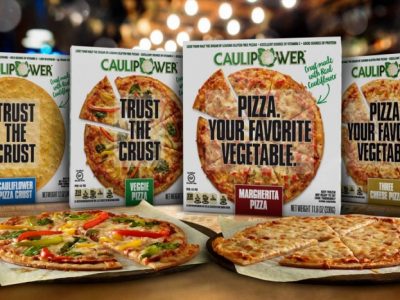 Eat Right with Rouses! CAULIPOWER frozen pizza has real cauliflower in the crust. It's delicious, nutritious, and also just happens to be gluten-free (with less than half the sugar of leading gluten-free pizzas). ​Trust the Crust!
Veggie Noodles, find them in our Produce Department
Eat Right with Rouses! Our fresh spiral sliced vegetable noodles replace starches like noodles, pasta and rice. Available in several varieties including butternut squash, sweet potato, yellow squash, zucchini and squash medley.
LOW SODIUM NAKED ROTISSERIE CHICKENS, find them in our Deli
Eat Right with Rouses! Our Rouses Naked Rotisserie Chickens have only 330mg of sodium per 3-ounce serving. They're fire-roasted fresh throughout the day. Season with Chef Paul Prudhomme's salt-free and sugar-free Magic Seasoning, Benoit's Best Salt-Free Cajun Seasoning or Magic Mike's Salt Free Seasoning and you'll never miss the sodium.
PRIME BEEF BURGER,  find them in our Butcher Shop!
USDA Prime beef ground fresh in store by our expert butchers.
BEEF BRISKET BURGER, find them in our Butcher Shop!
An exceptionally rich and flavorful burger made with brisket ground fresh in store by our expert butchers.
CHIPOTLE ROTISSERIE CHICKEN SALAD, find it in our Deli
Hand-pulled and chopped all white meat rotisserie chicken mixed with our new smoky dressing. A Rouses Original. 
EPIC BONE BROTH, find it in Broths & Soups
This ready-to-heat beverage is made the traditional way, which relies on low simmering of bones for long durations to extract maximum amounts of nourishing collagen, minerals and gelatin. Bottled fresh in glass containers.
FLAPJACKED MIGHTY MUFFINS, find it in Ready-to-Go Breakfasts
A delicious, certified gluten-free, protein-packed and high-fiber muffin. Mighty Muffins pack 20 grams of protein and 240 calories in each serving (1 container), and have the benefit of a patented probiotic GanedenBC30 to help you support Immune Health as part of a balanced diet and healthy lifestyle.
FLAPJACKED PROTEIN PANCAKES & BAKING MIXES, find it in Pancakes & Syrups
Made with quality ingredients such as whole oats and coconut flour, and fortified with with whey protein isolate and pea protein for a complete meal that fuels your body and keeps you feeling full. Naturally sweetened with fruits and veggies, each mix is bursting with flavor while boasting 20 grams of protein and just 200 calories per serving.
BADIA COCONUT WATER, check displays and our coolers
Badia's coconut water is the clear liquid from young green coconuts. It is refreshingly sweet and packed with nutrients and electrolytes.
LENNY & LARRY'S PROTEIN COOKIES, Grocery
The 4-oz. versions of the Whole Cookie contain 16g of protein and 8g of fiber in every cookie (depending on the flavor). They're vegan, non-GMO, kosher and contain no soy, artificial sweeteners or sugar alcohols.
---
Look for the easy-to-spot Eat Right with Rouses logo on more than 500 grocery items that have lower sodium, saturated fat, healthier fats, more fiber and less sugar.