Local seafood is our specialty — we sell more of it, boil more of it, and cook more of it than anyone on the Gulf Coast.
---
WILD-CAUGHT GULF SHRIMP
We partner with local fishing families all over the Gulf Coast to bring you the prettiest wild-caught shrimp. They're delivered straight from the dock to our stores seven days a week. Available head-on, headless and peeled. We also offer our own Rouses brand of frozen wild-caught Louisiana shrimp. They are harvested by local fishermen and cleaned, sorted and packaged locally.
More Local Seafood
Louisiana crawfish
Wild-caught Gulf blue crabs
Fresh-shucked Louisiana oysters harvested and packaged exclusively for Rouses
In-shell Gulf oysters
Gulf fish
Fresh seafood dips, a Rouses original
HOT BOILED SEAFOOD
We're so passionate about boiled seafood we build our own boiling rooms right in our stores! Our Gulf seafood is boiled fresh throughout the day using a Rouse Family Recipe perfected over three generations.
Get 'em HOT FROM THE POT 11Am to 7PM. 
---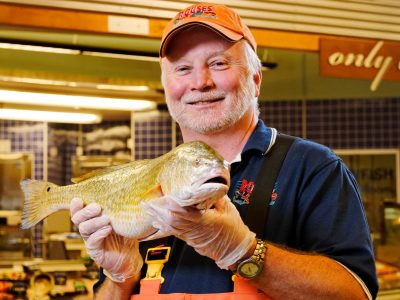 Our certified seafood experts are trained to select, cut and prepare every piece of seafood we sell. They are always available to prep your seafood or offer cooking or recipe ideas.
---
Also available in
our Seafood Department
house-made fish and crab cakes
fish and shellfish marinated and seasoned while you shop
live lobsters steamed to order while you shop
Atlantic and Scottish salmon delivered jet fresh in season
East Coast mussels and clams and lobsters delivered jet fresh in season
West Coast crabs delivered jet fresh in season